Sat 5 Nov 2011
Join me as I belatedly recount the awesome time I had at this years Tour
Our beloved Connection Tours. Nintendo has been hosting these things annually since 2006, traditionally in June/July. This year, however, it came around a little later than expected, partly due to the fact that Nintendo held other smaller-scale events earlier in the year, namely the first public showing of the 3DS in February and the Pokémon Battle Competitions in April and July.

Before this years Tour was announced, I actually hadnt bought a 3DS yet. I was going to get an Aqua Blue one, but with the lack of great software available from the get-go, as well as Japans later announcement of a red-coloured 3DS, I put off buying one, having placed my bets on the red colour hitting our shores some time soon. And thankfully, it did come out before the Tour kicked off, as I certainly wasnt going to attend without one.

I live in New South Wales, so the events were held at Westfield Parramatta (where these photos were taken) and Westfield Chatswood, two of the busiest centres in Sydney. Luckily for me, Parramatta is only a 10-minute train ride away, so I was able to get there (without getting up too early) shortly before opening and snagged one of the first 125 positions. In case you didnt know, the first 125 in line scored an official lanyard and entry into a draw to win all the games showed off on Tour, at release. Seeing so many other fans in front of me, as well as all the games just waiting to be played ahead…I knew this was going to be good.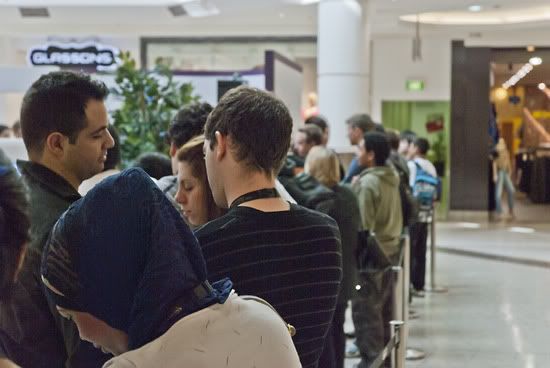 While waiting, Id almost forgotten that Id brought my 3DS with me. I took it out, and smiled upon seeing something I had never seen before. A green light. I had just gotten my first StreetPass. In fact, I got about 6 at first. After collecting my first puzzle pieces and venturing forth in the Quest, I was addicted.


I began checking for the green light every minute, before realising that I wouldnt get new hits so quickly. So the Tour staff were letting in small groups of people into the area every so often, kicking the previous group out so the place wouldnt get too crowded. As I edged to the front of the line, there was a demo reel playing on a screen mounted to the back of the stage (you can see it in the image below). Im telling you, waiting near that felt like an eternity, because the number of times that reel looped and played the same music over and over (and over) made me want to throw my 3DS at the screen.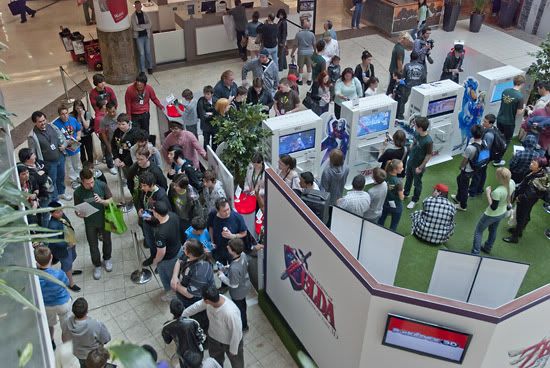 People in line were given the opportunity to play some of the slightly less-anticipated Wii games, like Mario & Sonic at the London 2012 Olympic Games and Kirbys Return to Dreamland, without having to wait. Most remained in their spots. As we got to the front of the line, we were each handed a trio of Pokédex 3D AR markers and a unique code for the online Zelda scroll competition.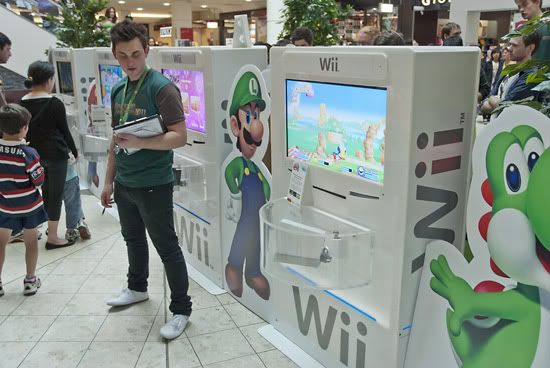 Finally I was let in, and the first game I headed to was Super Mario 3D Land. Truth be told, I was more excited about The Legend of Zelda: Skyward Sword, but I would rather have played something else than waited in line for that. Here are my impressions of Super Mario 3D Land. The game is a cross between Super Mario Galaxy and a Mario side-scroller. How? Well, you have your 3D environments and you also have a time limit. As a result, the levels felt a bit short; Im so used to the the more expansive levels in the Galaxy games. It felt pretty weird playing a 3D Mario game and also having to beat the clock.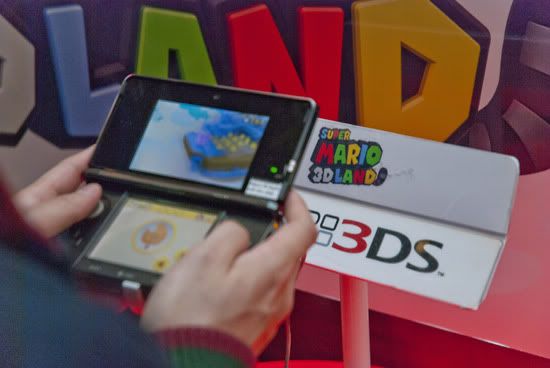 Furthermore, Im not sure if I like having to press the Y Button to dash in this particular game. It works in New Super Mario Bros. and its Wii counterpart because youre travelling in one direction and need only jump to get past something, and its good in Super Mario 64 DS because of the sizes of the levels. But in this game, the levels have quite a few obstacles and arent so big, so when you dash, you soon have to stop to manoeuvre past something, its like dash-stop-dash-stop-dash-stop, if youre the kind of person who likes to move quickly; it didnt feel smooth. I think I kept dashing because using the Circle Pad alone didnt move Mario fast enough for me. I mean, with analog control now, maybe it should just have been like the console Mario games so when you tilt all the way, Mario runs at full speed and you can lower your speed as you wish. Having said all this, I only played two of the four available levels, and Ill reserve my judgement for once Ive played the full release.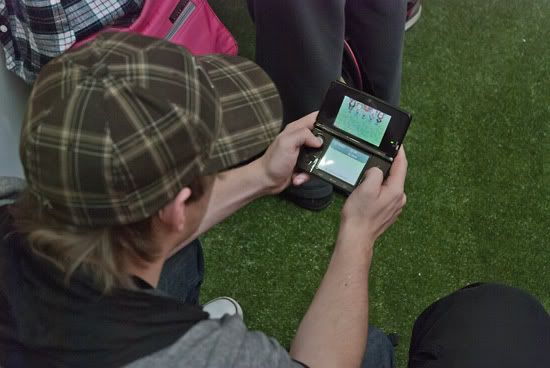 Once I was kicked out of the area, I thought Id check my StreetPass hits again. They just kept coming and coming. Puzzle piece after puzzle piece, Hero after Hero…I was making heaps of progress. While on the sidelines I caught up with some folks from Aussie-Nintendo and a few other Tour regulars. I asked if anyone wanted to trade Pokédex 3D data with me, and made a new friend in the process. Got about 60 new Pokémon from the guy, and he had most of the ones I already had. I felt a bit slack making him send me each entry one by one, but we got chatting and getting to know each other. See this is what the Tours are all about, meeting fantastic new people and having a great time playing the games you love.


When we were done, I headed on over to Kirbys Adventure Wii, and there was still a line for the main area by the way. I didnt get Kirby, to be honest. At first I thought I was meant to get the most points and kill everyone else, like in New Super Mario Bros. Wii, but I couldnt seem to get Kirby to suck the other characters. Then I thought I had to kill the most enemies, as there were points at the end, but everyone else kept getting awesome items which I didnt know how to pick up. Then I realised it was like the Subspace Emissary in Super Smash Bros. Brawl and you played co-operatively, but everybody else was doing all the killing so I just played catch-up. I couldnt even fall through a platform; I thought tapping Down would do that, like in Brawl. I kept tapping it fiercely so Kirby appeared to be humping the floor, to no avail. I decided I would just get to end of the level by flying as I high as I could and annoy everyone else. I suppose my ignorance of the controls and gameplay didnt do justice to this game.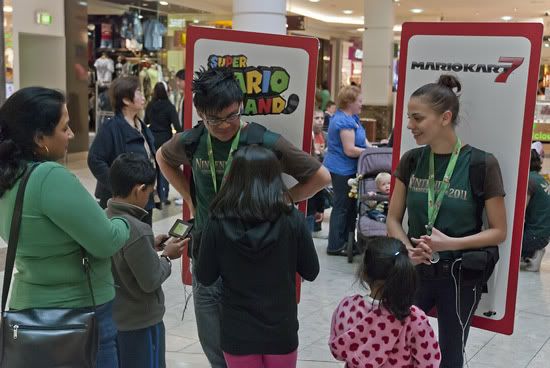 I had lunch with some friends and by now, people were allowed to walk in and out of the main area as they pleased. I queued for one of the Skyward Sword stations. Let me just take this opportunity to bring up the fact that these Tours can be quite tiring to attend, especially when youre gonna stay for most of the day. Due to the limited space Nintendo can use for the set-up, there is a lack of adequate seating within the area, and if youre unlucky, the shopping centre itself wont have any seats nearby. Standing for hours hurts, people. Rest assured, I mentioned this to a friendly lady representing the marketing company behind the Tour and she duly noted it. I also said that the fans enjoyed really the tournaments that were sometimes held, as they brought people together and had great atmosphere. Its understandable that there wasnt a tournament this year as the focus was on the new games.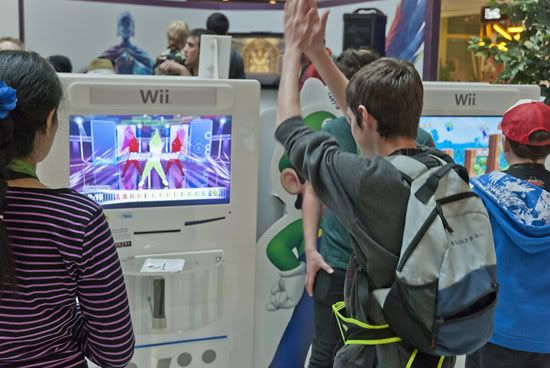 Stay tuned as I continue to relive my Connection Tour experience in Part 2 tomorrow!
No Responses to " Feature: My Nintendo Connection Tour 2011 Experience and Impressions, Part One "