Thu 18 Apr 2013
Posted by Nintendo Project under 3DS, Donkey Kong, donkey kong country, link to the past, Mario, mario party, Nintendo, Nintendo News, Nostalgia, Opposable Thumbs, Pikmin, Professor Layton, WarioWare, Wii U, yoshi's island, Zelda
No Comments
Nintendo has been milking its impressive stable of mega-popular franchises for so long now that we really shouldn't be surprised that today's Nintendo Direct online video presentation was devoted almost entirely to sequels, remakes, and rereleases of popular franchises. Still, it's a bit incredible how much Nintendo is leaning on established properties, rather than new game ideas, to populate the software market for the 3DS and Wii U.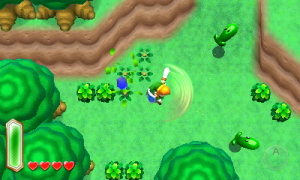 Of course, a generation of fans who grew up on these Nintendo games aren't likely to care too much. Nintendo announced a direct sequel to the SNES classic
The Legend of Zelda: A Link to the Past
 for the 3DS today, using the same familiar overhead perspective and established Hyrulian world, while infusing it with new mechanics like the ability for Link to become a 2D drawing and scoot along walls. There are precious few additional details about the game, but I'm willing to bet a good portion of those reading this are ready to preorder for the holiday release right now just because, hey, it's a freaking
Link to the Past
sequel!
Many Nintendo console owners will likely have similar feelings about the new portable Yoshi's Island game Nintendo announced today. And the new 3DS Mario Party title, the new 3DS Mario Golf game, the new 3DS entry in the Mario and Luigi RPG series, the new 3DS Mario and Donkey Kong: March of the Minis game, the new 3DS Professor Layton game, the 3DS remake of Donkey Kong Country Returns, and Atlus' new 3DS Shin Megami Tensei game. Not to mention the new Wii U Pikmin game, which are now set for August 4, and the new Wario mini-game collection, Game & Wario, now set for June 23.
Read 5 remaining paragraphs | Comments