Sat 6 Oct 2012
Posted by Nintendo Project under Uncategorized
No Comments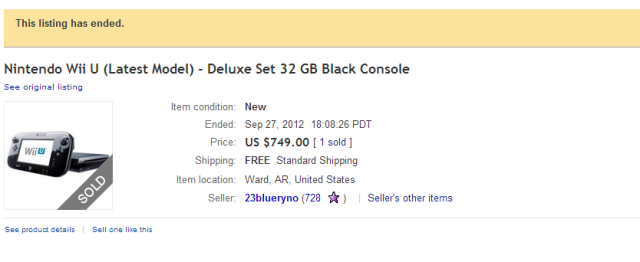 Preorders for Nintendo's upcoming Wii U sold out at every major retailer almost immediately after they were first offered in mid-September, but you can still guarantee yourself access to the system just after its November 18 launch. You'd better be ready to pay quite a bit extra for the privilege, though.
Completed eBay listings dating back to Sept. 20 show resold preorders for the 32GB "Deluxe" system (which comes with a copy of NintendoLand and some accessories) selling for an average of $517, 48 percent higher than the $350 retail price. The eBay markup is significantly less for the 8GB "Basic" system, which is averaging $348 in pre-sale auctions, or just 16 percent above the $300 asking price. That doesn't include pricy shipping for some of the auctions, or auctions that bundle the system with games and further accessories.
One lucky eBay reseller convinced someone to pay $749 for his launch-day Deluxe system—a high price, but not nearly as ridiculous as the $1,550 one Buy It Now seller tried (and failed) to get for his Basic system preorder. On the other end of the scale, a couple of savvy eBay shoppers actually managed to purchase preorders at below retail price, no doubt to the chagrin of the resellers.
Read 3 remaining paragraphs | Comments
No Responses to " The price gouging begins: Wii U preorders going for up to $750 on eBay "